You might find uprising what the fastest appreciating US city is. In recent data it is shown to be Detroit. The city that once was deeply impacted by the fledgling automotive industry is starting to see a comeback in home prices. The city is in a rebuilding phase and prices have surged nearly 100% since 2013. There are also quite a few other cities that have seen explosive growth. Some not as surprising as others. Coming in at number two is San Francisco. The city that's well known for tech startups has seen tremendous growth in recent years. It's very impressive to have that much growth considering the already hot market, but the San Francisco Bay area just keep seeing more and more growth. One also notable statistic is that three of the top 7 fastest growing cities are based in California. California has gotten so much growth in recent years and it just keeps getting more expensive. Home Value have jumped at least 50% in highly populated areas including San Francisco.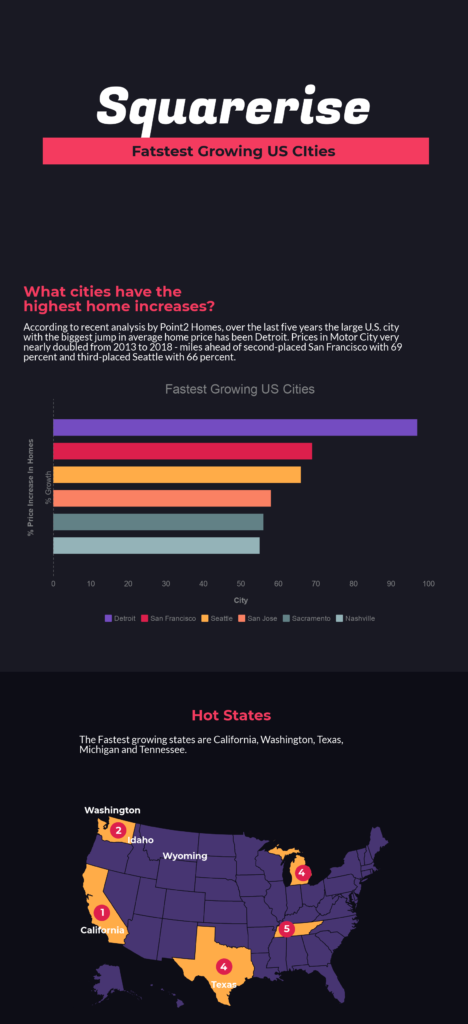 As you can see California has been having wonderful growth over the previous years. A lot of it of course has to do with the tech companies from there. Many tech companies are also trying to venture out of Silicon Valley. Other tech hubs include Austin, TX which is having strong population growth. Other notable tech hubs include Nashville, which amazon has hinted may create jobs there. Other notable areas include Seattle which has had tremendous growth in recent years as well. Seattle is home to many large companies such as Amazon, Microsoft as well as other tech companies and non-technical large companies. The market has seen been continuing to grow and will increase as tech giants expand,
Overall where do you think fast growth is happening? We know there are many factors that play a role here. Job growth is just one of them.