Let's face is it, any real estate around the Seattle area has been soaring for the last decade. With high paying tech jobs and huge number of fortune 500 companies, Seattle's economic powers only continue to grow. There has been major changes across the US, as cities are being transformed both good & bad.
How expensive is the Eastside?
For those who aren't familiar with Seattle, the Eastide would probably be considering anything along the I-405 freeway. This includes cities such as Kirkland, Redmond & Bellevue. It is notoriously known for having a high amount of tech related jobs with many fortune 500 companies such as Expedia, Nintendo and of course, Microsoft's Headquarters in Redmond. Also many prominent companies have setup offices in the area including Google, SpaceX & Salesforce. The Eastside is no stranger to tech, but with these high paying careers and a fast population growth, one might wonder how the cost of living is doing.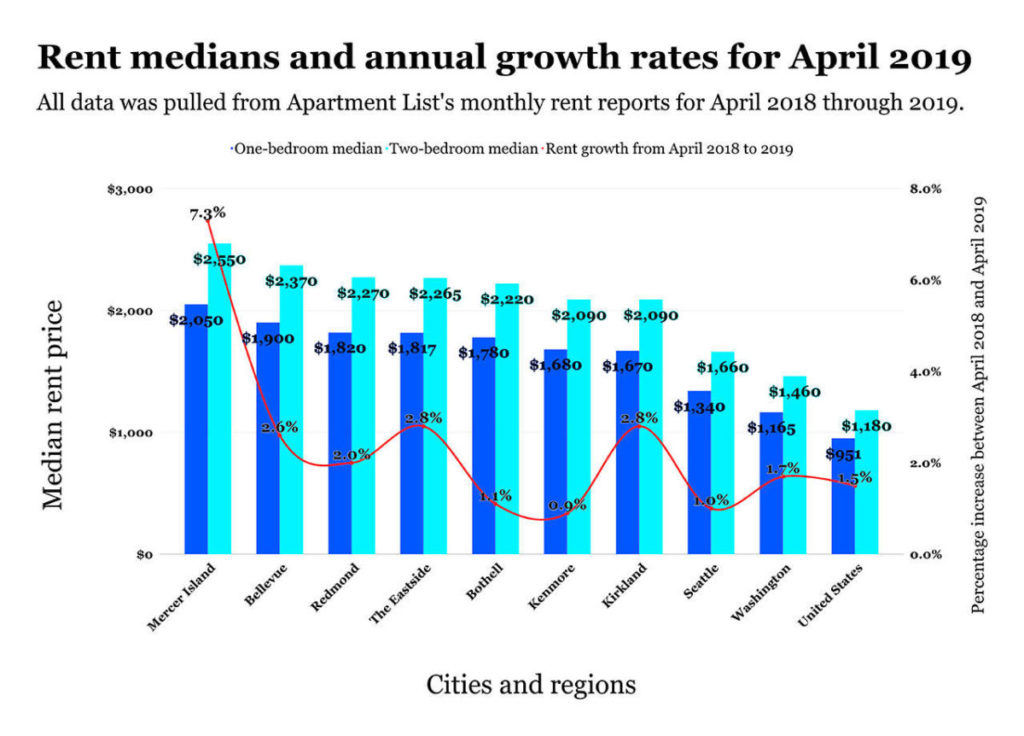 Medina, Mercer Island, and West Bellevue (9804) rank as the most expensive zip codes in Washington state. Medina, of course is home to Bill Gates & Jeff Bezos whom are the two wealthiest people in the world. The Eastside is considered more of a suburban area and there for has a lot more single family homes. To give you an idea of the cost of living, the average rent in Bellevue is currently just over $2,500/mo. That is 138% more than the national average where as the average home is at about $825,000.
How expensive is Seattle?
Let's be clear that just like any other metropolitan city, Seattle is composed of many neighborhoods, zip codes and regions. For the sake of this research we focused on the areas that have been getting the most growth and with the highest employment rate, the majority of these neighborhoods are in the north side of Seattle.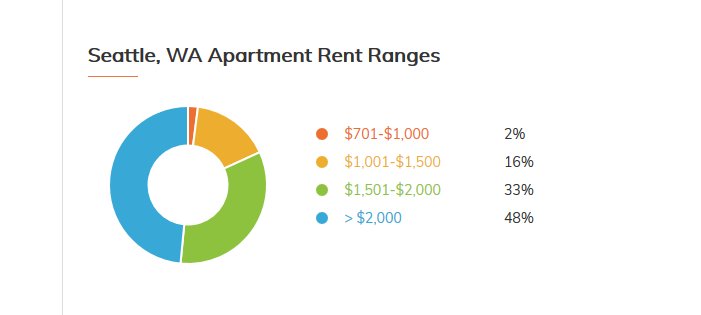 The average rent for an apartment in Seattle is $2,122, a 3% increase compared to the previous year. However, there is good new as the city of Seattle has been on a building spree the last few years. Rental prices obviously vary through neighborhood. Downtown Seattle has the most expensive rents in Seattle and the Puget Sound area. The Seattle area seems to be building many apartments in the area and thus has cooled off demand, at least, for now. There were three Seattle neighborhoods that made it , including the neighborhoods of Belltown, Lower and East Queen Anne, and South Lake Union. Average rents ranged from between roughly $2,520 to $2,835 each month.
Since early 2018, the West Coast inventory has been on the rise. In Seattle, there were 12,267 units for sale compared to 8,011 in San Francisco. There has been more than a 40 percent throughout the past couple of years. There was an overall increase in listings in Bellevue, and a more than 30 percent increase in Kirkland. However, while rent increases have leveled out in Bellevue and Seattle, South King County cities like Renton, Kent and Federal Way all saw increases in 2019.
Result?
As it stands right now, Bellevue is still the more expensive region in Washington. The 98004 zip code has the most expensive rents in Washington and Oregon. Considering that both Seattle & the Eastside's rents and home values are growing at the same rate. It's tough to say whether the massive Seattle growth will surpass housing costs on the Eastside. Ever since the growth of Amazon and many tech companies such as Google, Apple and Salesforce, which are all placing huge offices in Seattle, it seems that this growth is also correlated with housing costs and rents on the Eastside. What is your prediction? Will Seattle housing surpass those on the Eastside? Which region do you prefer to live in?